USA | 1950 | black and white | 138 minutes
CREDITS
Directors Joseph L. Mankiewicz
Notable cast Bettie Davis, Anne Baxter
Production company 20th Century Fox
The film  All About Eve presents a meaningful look at mentorship, particularly in our growing culture of celebrity worship. Bettie Davis stuns as the distant by kind Margo Channing, an actress whose stardom is on the decline, while Anne Baxter brings a subtleness to her portal of the fanatical Eve Harrington. In the film, Eve's aims for fame bring her falling to great lengths as she plots, ploys, and schemes her way to the top using Margo's pedestal as her platform. The film examines the boundary between admiration and obsession, asking viewers what the costs are for crossing that sacred line.
note: classic movie trailers are either ridiculously dramatic, painstakingly slow, or completely unrelated to the actual story of the films themselves.
---
Commentary: 
All About Eve has some of the best dialogue I've ever heard in a film.  The characters are sharp, smart, and full of wit, and the actors play it off with a mixture of charm, sass, and sincerity that sparks on the screen. While the film doesn't address (and notably so) the role race plays in its gender and class critique, Eve Harrington is for all intents and purposes, the embodiment of white womanhood in play. With her "good" intentions and quiet ambitions, Eve strikes her way to the top, weaponizing her vulnerable position in society in order to participate in the system (the male dominated film/theater industry in this case) that so shut her out. Eve's act may have won her fame and accolades, but it's the audience and Margo Channing that's left standing once her curtain falls.
Side note: Marylin Monroe is in this film. If you've seen her performance in this film, then you've pretty much seen 75% of her movies. The girl has no range, but at least in this film, she's at her best.
Similar Films:
Working Girl follows Tess McGill (Melanie Griffith) a receptionist looking to advance her career as she navigates the realm of office politics under her boss Katherine Parker (Sigourney Weaver). When Tess' idea is stolen by Katherine, she becomes determined to build her own road to success, one that exists  outside of the sterile pathways of the office. Dawning Katherine's position and prestige, she initiates a major deal with an investment broker (Harrison Ford) that has Tess falling in more ways than one.
I'll be honest, the first time I saw Working Girl was exactly three days before I wrote this. I caught a glimpse of it on TV, and I managed to record and watch it on the next showing. After watching the film, I kind of have to say that I'm obsessed. I pretty much loved it, except for that awkward and entirely uncomfortable scene where Tess wakes up in Harrison Ford's bed unsure of what happened to her the night before. (I'm still not sure what happened there…). Tess' initial admiration for Katherine as her boss and as a woman, and the disillusionment that occurs after she's betrayed, addresses an interesting element about mentorship that many of the movies avoid: What happens when the person you admire disappoints you? How do you react, how do you move forward, and most of all, how do you come to terms with relying on yourself?
Working Girl is funny, cute, but above all sharp in the way the film is structured. In the beginning of the film viewers are discontent with the quiet knowledge that Katherine really isn't a mentor for Tess, but by the end, they can feel a sense of pride knowing that Tess will be the mentor she always needed, for herself and others.
Roxie Hart is a "STAR", or at least, she dreams of becoming one. When she's arrested and charged for the murder of her lover, Roxie finds herself on death row along with stars like Velma Kelly, a Jazz performer who Roxie once worshiped. In Chicago, stars don't shine as bright behind bars, and the line between fame and infamy is blurred as Roxie and Velma dance and sing circles around the chopping block.
Chicago is witty, it's funny, and the musical numbers are a blast. Queen Latifah stuns as Mama, the corrupt prison warden whose kind gestures come at a price, and Renée Zellweger and Catherine Zeta-Jones shine as Roxie and Velma, their snarky banter always keeping viewers on their toes. The film portrays greed, backstabbing, and the antics of the most conniving in society,  in a way that cleverly skirts the line between glamorization and condemnation. The cast is exceptional, and while I could have gone with less Richard Gere and more of Lucy Lu (like really, only a small cameo? How you gonna play Lucy Lu like that Chicago?), the film starts and stops with a bang.
Trading murders sounds like a good idea, until it doesn't. At least, that's what tennis player Guy Haines (Farley Granger) realizes when the proposition somehow comes up (like really, when does this happen?) during a conversation with a stranger on a train. When Bruno, the stranger with sinister intentions, actually goes through with the murder plot, Guy finds himself being blackmailed to fulfill his side of the deal.
Strangers on a Train is chilling. I remembered being entirely engrossed when I first saw the movie way back when. Now, I'm finding myself looking back to the film, questioning the role women played in it as props to men's ambitions. I don't know if the film tackled these questions (knowing Hitchcock, I doubt it), but notwithstanding these uncertainties, there is an excitement to Strangers on a Train that never dies down. The film poses the question of whether a crime begins at the conception of the thought and takes it to interesting (if not fully realized) lengths.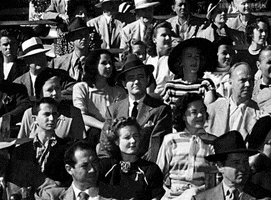 Mariah Carey's Obsessed: not exactly a movie, but I'd consider it the theme songs of all these movies
For my next post, I'll look at Beyond the Lights, but if you want to read about Creed, Kitty, and the other films featured in my mentorship series, click the links below!
Mentorship at the Movies Overview